"LNF Footgolf (League National FootGolf) CHAMPIONSHIP", the most important tournament of the year in Italy. That will take place in the city of flowers Florence from 16 to 18 July. In the prestigious Circolo Golf Degli Ulivi.
A total of 250 players will compete in the competition.
This year, there will be an exclusive event with past players competing in an exhibition tournament at the same time as the competition.
On 17 July Diego Fuser, president of the LNF, will be the host in a challenge that will see among the protagonists on the FootGolf field: Vincent Candela, Demetrio Albertini, Gigi Di Biagio, Luca Antonini, Cristian Zaccardo, Sergio Pellissier, Sebastian Frey, Frey Nicolas, Dario Marcolini, Pietro Vierchowood, Alessandro Budel, Cristian Zenoni and Serginho.
2021 LNF Footgolf Detail:
This year's National Championship officially ended.
Applause to Mattia Damonti, the Italian LNF 2021 Champion with an astounding score of 7399.917! Congratulations to Roberto Carbone, who earns a well-deserved second place with 7029,480 points, and to the brilliant Paolo Giuffrè, who is confirmed in third place with 6125,610 points, for fighting to the finish for the podium.
With a score of 7029,250, our President Diego Fuser has been named the new National Champion in the 1st Category. On the podium with him are David Illuminati in second position with 5977,876 points and Alberto Di Mineo in third place with 5532,375 points.
With 6393.813 points, Iacopo Incerti wins the title of National Champion II Category, followed by Alessandro Toffoli in second place with 6142.107 points and Adrian Manea in third place with 6062.507 points.
Big acclaim also goes to Paolo Tommaso Celebrano, who won the title of National Champion III Category with an incredible score of 5923.750, beating off Thomas Saloni, who came in second with 4726.166, and Soufiane Fettachi, who came in third with 4632,458 points.
This Information is taken From https://legafootgolf.it/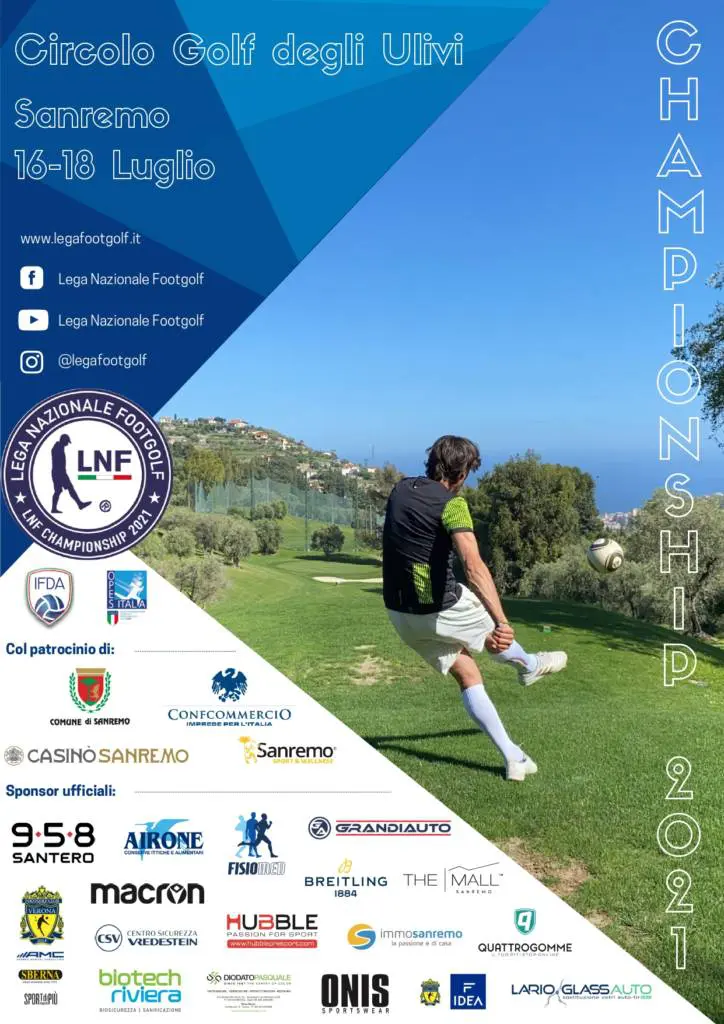 Finally, we also honor the National Champions of the Special Categories:
⚽🇮🇹 SENIOR CATEGORY
1st – 7632,250 – Christian Smussi – Senior National Champion
2nd – 7589,458 – Ivan Pelati
3rd – 6701.685 – Andrea Battaglia
⚽🇮🇹 SUPER SENIOR CATEGORY
1st – 8500,150 – Giuliano Geti – Super Senior National Champion
2nd – 7916.333 – Corrado Gatti
3rd – 7447.917 – Luigi Gualco
⚽🇮🇹 CATEGORY LADIES
1st – 909,447 – Laura Bortolamedi – Ladies National Champion
2nd – 820,900 – Gabriella Ferrero
3rd – 757,500 – Simona Bressan
⚽🇮🇹 UNDER CATEGORY
1st – 9240,750 – Carlo Cedoni – National Champion Category Under
2nd – 6631,250 – Andrea Novelli
3rd – 4555,000 – Diego Fasoli
With all of them and with you see you on November 13, 2021, for the LNF Awards 2021 with the end-of-season awards ceremony at the Le Vigne Golf Club !!
Read more article :